It is natural for any garage owner to have a lot of questions about garage door maintenance. It is important to know when and how frequently to perform each of the required tasks. While repainting is typically done once a year, safety checks are required every three months or so. Cleaning is essential for preventing damage. The same applies to lubrication. Timely garage door repair and component replacement work to prevent further and more serious issues. We will do all of these things for you to give you a perfectly functioning system, which is safe, secure, reliable and convenient to use.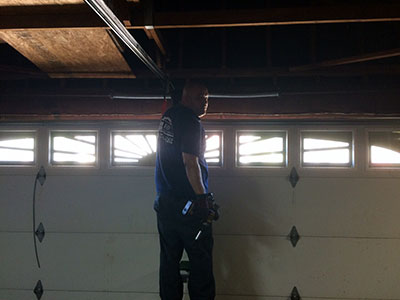 Doing Everything for You
Our commercial and residential garage door services are designed to benefit you fully. We do all the work and save you time and effort. We help to extend the useful life of the system and protect it from serious issues. As a result, you will generate considerable savings. Our services are of the highest quality in every respect in addition to being fully comprehensive.
Our technicians have excellent technical skills and vast knowledge. Our expertise covers door and opener models of all ages and from all brands. Whether you have a Chamberlain, Clopay or Genie garage door system, we will service it entirely. We clean the panels and hardware plus the opener accessories which require this. We provide complete garage door opener sensors maintenance. We will ensure that the photo eyes of the safety sensors are free from dust and grime and that they are properly aligned to protect people and property.
Both the panels and metal parts require extra protection and we will provide it. In case of steel and wood units, we use protective exterior-grade paint to achieve effective weatherproofing. We provide complete lubrication maintenance to all moving hardware components. This helps to reduce friction and to slow down the rate of wear and tear. You will enjoy much quieter operation with our professional assistance.
We, at "Garage Door Repair Moraga", provide full inspection and testing to all system components. If needed, we provide the ideal fix straight away. We have spare parts for all types of doors and electric operators at hand. Whether we have to replace a worn-out spring or a broken moving gear inside the power unit of an opener, we will use a perfectly matching component which is strong and durable.
Send us an email to share your needs and requirements with us right away!